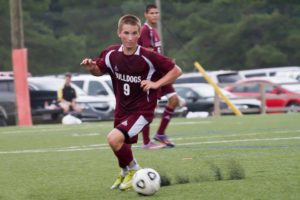 #9 on the field…#1 in our hearts…
Matthew, God's chosen one… meant to do great things and he was.
Matthew was a shy quiet boy but everyone wanted to be around him. He always had a full social calendar. Matthew was stubborn like you wouldn't believe and nobody told Matthew what to do but he was never in any trouble. Parents of friends loved to have him over because he was so quiet and wonderful. He had many "adoptive" parents and brothers. You would to this day be unable to find a coach, teacher, friend or parent of a friend to say anything negative about him. Matthew was an outstanding athlete. His high school soccer coach once told me that he had a God given gift. During Matthew's life he shined at everything he did and I was proud of him like every mother is. Matthew had dreams and wanted great things in life, but he got side tracked and in a few short months my beautiful baby went from being happy and healthy in a recovery home to an opiate overdose statistic. As a mother it broke my heart when he sent me a text saying… I don't try to break your heart on purpose I love you and want you to be proud of me for once. He wanted to do the right thing but heroin and prescription drugs had already changed how his body worked and he couldn't accomplish his goals.
Now his family members are left behind to struggle with his addiction for years to come!
Submitted by Cindy Patone, Matthew's mother