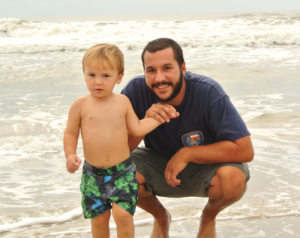 Caleb is best described as loving, compassionate, always expressing an extraordinary level of kindness to all, especially children, as well as being loyal, humble and athletic. A natural athlete, Caleb played several sports in his youth. His favorite was baseball, excelling as a 2 time high school All Conference player (left-handed pitcher), defensive player of the year (1st baseman), whose career culminated in a NCAA Division 1 scholarship. A good student, Caleb stood for all the right values, was a friend to all, treating everyone with respect, loved children of all ages, freely giving of himself to help kids whenever opportunities presented themselves. He aspired to coach young athletes. Caleb loved the outdoors, was an avid fisherman, enjoying outdoor life from the beaches to the mountains.
Caleb's exposure to prescription pain medicine came from repeated sports related injuries/surgeries and a horrific motorcycle accident. After each surgery, he was prescribed increased numbers of opiate painkillers. His dependency was transparent until it reached the point of substance abuse disorder and addiction. When the prescriptions stopped, Caleb turned to the street for his dependency on opiates. Treatment options were very limited, and we as parents provided the best rehabilitative treatments available to us at that time. It wasn't enough to prevent the most tragic event in our family's history. In the early morning hours of October 13, 2016, Caleb passed away at home from opioid toxicity, a combination of heroin and fentanyl. Caleb was a brother, an uncle, and father to a 2 year old son, Cooper. Caleb became a victim to an addiction disease he neither wanted nor could control. He would be the first to tell people that opiate addiction knows no boundaries. It transcends age, race, gender, level of education, impacting every segment of our society.
No words can express the loss, pain, grief, regret, and sorrows that accompany such an event. There is never closure for parents who have lost an adult child. Not a day passes that I don't thank God for those 27 years as our son, as daily I turn my eyes to the sky, openly telling him how much I love and miss him.
We continue to honor Caleb through education of our young people, passionate for their generation's identity. We actively advocate for legislative changes to limit opiate prescription availability. We promote Caleb's story to audiences of all ages, faith based groups, legislature members, and athletic teams. The heart is not judged by how much you love, but by how many love you. Everyone loved Caleb. Caleb is God's child, serving his Lord, and our Savior, in the glory of Heaven. We may not can help everyone touched by this disease, but everybody can help somebody. My son's life was important, every life is important. Caleb, we love you so very much, and you are sorely missed…every single day.
(Submitted by Steve Shelton, Caleb's father)